Leadership
a vision to lead the fight against hunger.
Meet our Leadership Team, Board of Directors and Advisory Board.
Executive Leadership
Kyle Waide
President & CEO
Kyle Waide
President & CEO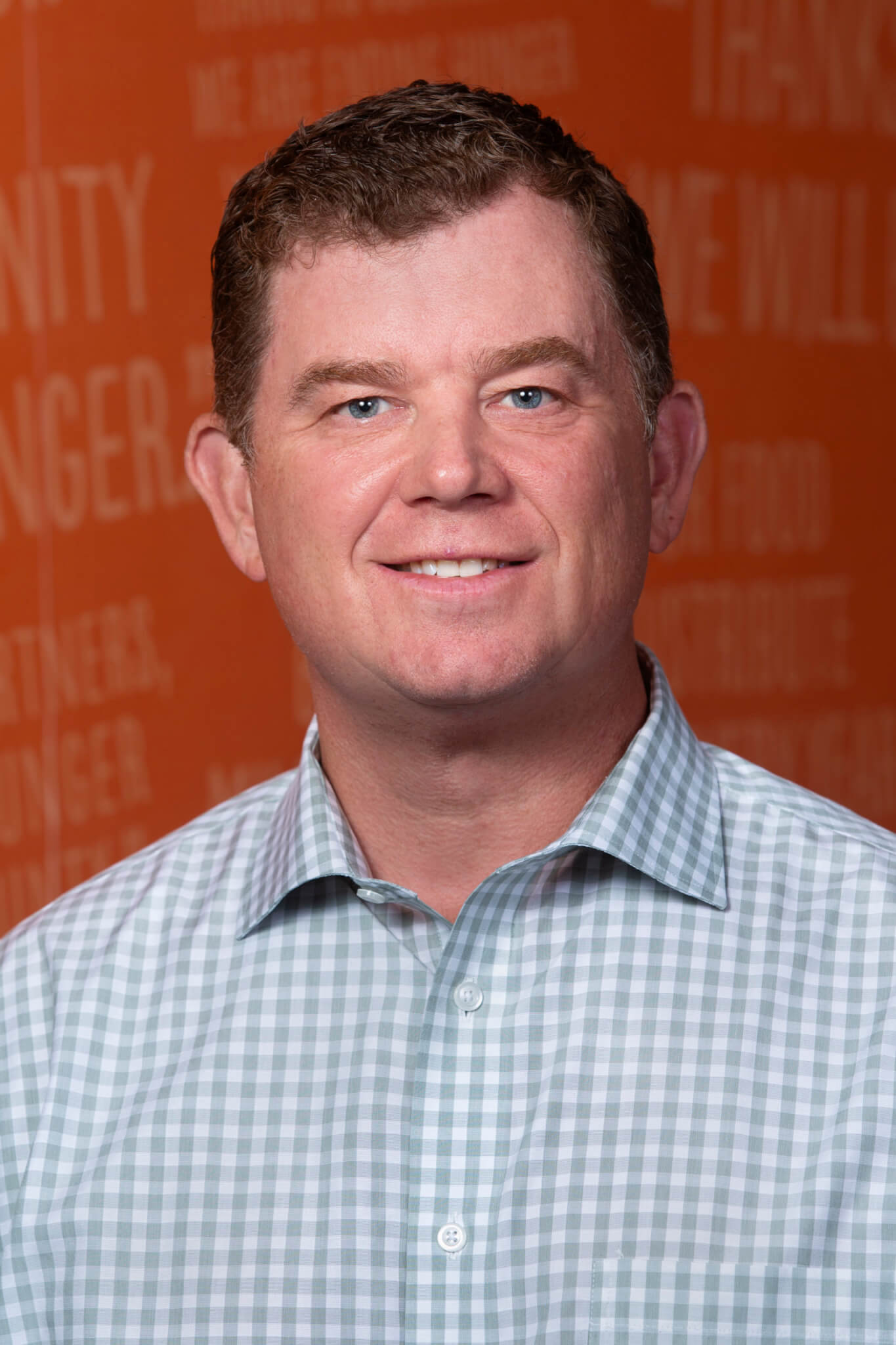 As President and CEO of the Atlanta Community Food Bank, Kyle Waide oversees the distribution of nearly 75 million pounds of food and grocery products each year through a network of 700 local and regional partner non-profit organizations that feed those in need across 29 Georgia counties. Prior to being named CEO in June of 2015, Kyle served for three years as the Food Bank's Vice President of Partner Operations, leading the organization to record-breaking years of food distribution to the hungry. Prior to joining the Food Bank, Kyle held several management roles at The Home Depot Inc. in disaster relief, corporate responsibility, community affairs and store operations. He also previously served as part of the management team that created and launched Charity Navigator, the nation's premier charity evaluation service. Kyle is a graduate of Harvard University. He currently serves as the Chair of the Southeast Regional Cooperative and the Vice Chair of the Georgia Food Bank Association. Kyle also is a member of the National Affiliate Council and the Policy, Education and Advocacy Committee for Feeding America, for which he also chairs the Equity, Diversity and Inclusion Advisory Committee. He serves on the boards of the Metro Atlanta Chamber of Commerce and Goodwill of North Georgia. He is a member of the Leadership Atlanta Class of 2015, the Rotary Club of Atlanta, the Community Advisory Board for The Junior League of Atlanta, Inc., the Super Bowl LIII Host Committee Advisory Board, and the Committee For A Better Atlanta. Kyle resides in Atlanta, GA with his wife, Christina, and their three children.
Sharay Erskine
Chief Information Officer
Sharay Erskine
Chief Information Officer
Sharay is responsible for leading the strategic investment in new systems that will enable us to enhance the client service model, measure and report on our impact, and drive greater efficiency in all aspects of our operations. Sharay brings more than twenty years of experience in information technology, most recently as Vice President of IT at Bunzl Distribution, NA in Atlanta. She is a solutions-oriented professional with a history of working in logistics and supply chain industries while successfully building IT strategies for growth. Sharay is a motivated leader and change agent recognized for maintaining a positive attitude and her ability to drive results through cross functional teams. She holds degrees from the University of Phoenix and the DeVry Institute of Technology.
Sarah Fonder-Kristy
Chief Development Officer
Sarah Fonder-Kristy
Chief Development Officer
Sarah is the Chief Development Officer at the Atlanta Community Food Bank. Sarah has worked at the Food Bank since 2000 to fight hunger and serve more than 600 partner nonprofit feeding organizations. In her current role, she oversees fundraising from corporations, foundations, individuals, government, civic and religious organizations. Sarah previously managed the Food Bank's volunteer program, utilizing more than 15,000 volunteers annually. She is a member of Georgia Planned Giving Council and has presented on fundraising at the Nonprofit Summit by Georgia Center for Nonprofits and at Feeding America national fundraising conferences. Sarah was in the founding class of L.E.A.D. Atlanta and is a past president of the Council of Volunteer Administrators (COVA). Prior to her career at the Food Bank, she worked with Georgia Court Appointed Special Advocates. She received her Master of Public Administration at Georgia State University and her B.A. in Sociology from Emory University.
Sheri Foster
Vice President of Human Resources
Sheri Foster
Vice President of Human Resources
Sheri Foster was the Director of Enterprise HR Services for the Human Resources Administration (HRA) within the Georgia Department of Administrative Services (DOAS). The HRA supports Executive Branch state employers of various types across Georgia; which constitutes approximately 107 agencies with a workforce numbering just under 70,000. She is charged with leading the development and implementation of HR services and technology to support the state's key talent management functions including talent acquisition, learning and development, and performance management. Sheri is a seasoned professional with more than 16 years of experience in the human resources (HR) field. Prior to joining DOAS, Sheri was the Vice President of Human Resources for Consumer Credit Counseling Service, a national non-profit organization whose mission is to help individuals and families in financial distress. In that role, she built the company's HR infrastructure, including processes, systems, structure, and policies from scratch, led a series of initiatives to enhance the organization's culture, transform performance and learning, and supported the organization's expansion from a local organization to having a national presence. Sheri holds a Bachelor's degree in Sociology from Loyola Marymount University in Los Angeles, CA and a Master's degree in HR Management from the Culverhouse College of Commerce and Business Administration at the University of Alabama in Tuscaloosa.
Kenny Hill
Chief Supply Chain Officer
Kenny Hill
Chief Supply Chain Officer
As Chief Supply Chain Officer, Kenny leads all aspects of our food sourcing, warehouse & inventory management, and delivery operations. Kenny is a natural leader who has a passion for helping people. During his thirty-year career with The Home Depot, he served in roles of increasing responsibility including general manager and district manager. As a multi-unit leader of a team with over 1000 associates and $250MM in sales, he received recognition for consistently developing people and improving processes. His leadership tenure spanned The Home Depot's initial embrace and full expansion of online retail, coordinated freight flow, supply chain enhancement, and online delivery systems. In 2014 Kenny and his wife founded The Launch Pad Foundation, a non-profit organization that provides transitional housing and life skills development to homeless single parents. His other volunteer commitments include serving on the board of the 100 Black Men of America's South Metro Chapter and as an appointee to the City of Atlanta's Zoning Review Board. Kenny received his B.A. in Economics from The University of California, San Diego.
Debra Shoaf
Chief Financial Officer
Debra Shoaf
Chief Financial Officer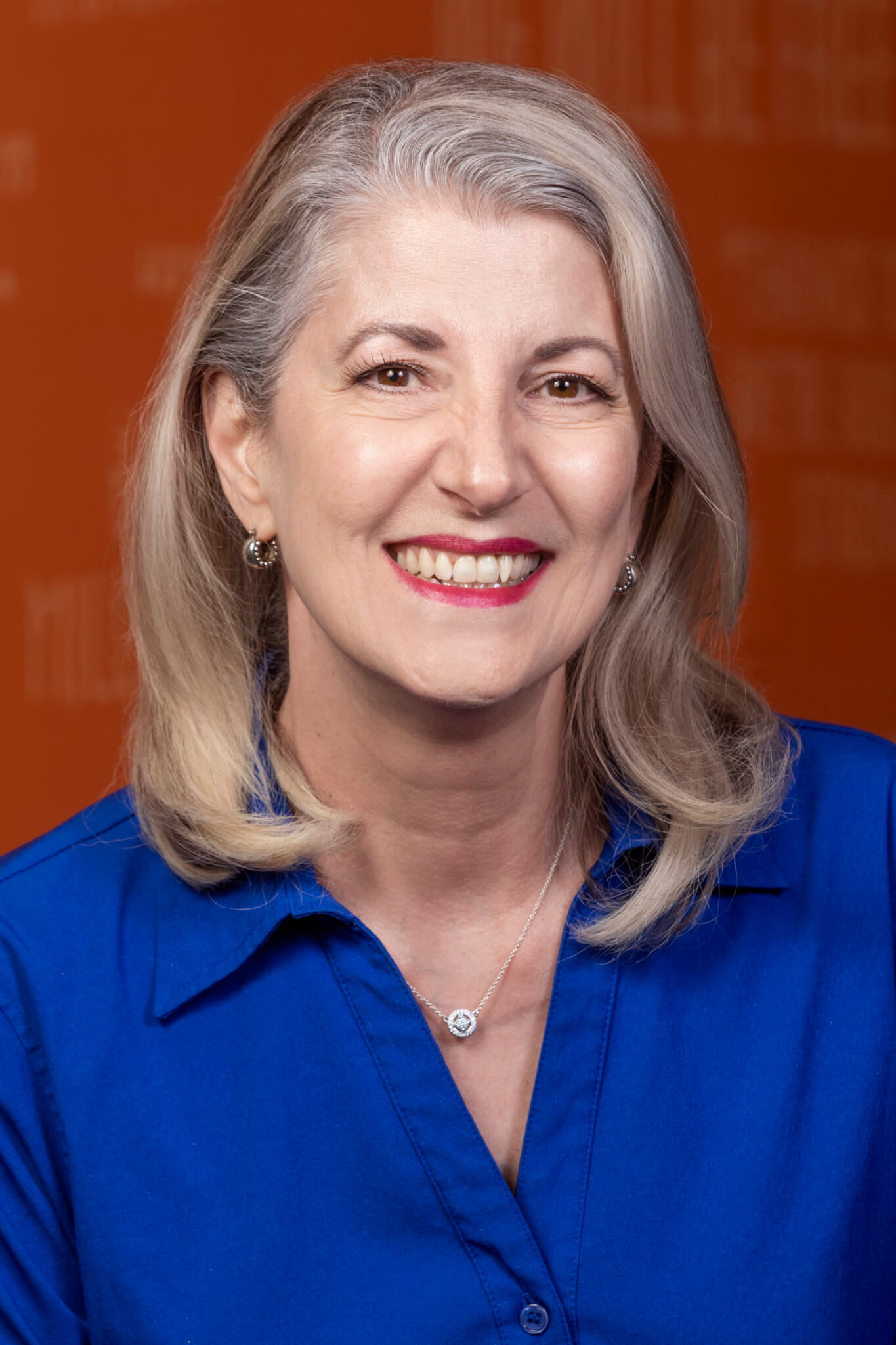 Debra Shoaf oversees the finance, risk management, and real estate functions for Atlanta Community Food Bank. The Food Bank is a $160MM+/year organization that is on target to procure and distribute over 100 million pounds of food this year to nearly 700 partner agencies, serving individuals in 29 Georgia counties in metro Atlanta and north Georgia. Debra was the internal lead for the Food Bank's new 345k SF facility construction and infrastructure expansion which was funded with a $46MM NMTC financing package and closed with a $31MM bridge loan. Debra serves on the Feeding America Financial Leaders Steering Committee and is the Chair of the Recruiting subcommittee. She was selected as the Feeding America Senior Financial Leader of the Year in 2018. She also serves on the Advisory Board for Rural Development Partners, an organization that uses New Markets Tax Credit financing, in combination with bank loans and investor funds, to help businesses across the nation complete infrastructure projects that provide access to quality jobs and healthy food. Prior to joining the Food Bank, Debra served as the Vice President of Finance and Accounting at Atlanta Habitat for Humanity. She has also held positions in private industry as Chief Financial Officer for Renfroe Enterprises in the real estate development, warehousing, billboard, and construction industries and as Controller at Ivan Allen Company in the retail office supplies, printing, and furniture industries. Previously, Debra worked in public accounting and government agency roles in audit and tax positions. She holds a B.B.A. in Accounting from Georgia State University and is a Certified Public Accountant. Debra and her family live in Peachtree City.
Jon West
Vice President of Partner Relations
Jon West
Vice President of Partner Relations
In his role, Jon helps the Food Bank think and act strategically in ways that foster innovation and support communities, partner organizations and individuals to find creative solutions to increase food access. Previously, Jon was the Food Bank's Community Building Manager where he helped launch place-based collaborative networks of service providers and citizens working together to build stronger, hunger resilient communities. His very first job at the food bank was painting food drive barrels blue. Before coming to the Food Bank, Jon worked with an agricultural relief and development organization, in the higher education sector and as a youth mentor in Botswana, Africa. He received his Master of Divinity from Fuller Theological Seminary and a B.A. in English Literature from Mississippi College. Jon is married to Hannah and they live with their two children on the west side of Atlanta. He is very proud of his short commute.
Senior Leadership
Alison Ash
Director of Strategy
Alison Ash
Director of Strategy
Alison Ash is the Director of Strategy, where she leads the development and implementation of short and long-term strategic priorities, building a new team to support cross-departmental efforts for growth and process improvement. Prior to joining Atlanta Community Food Bank in 2021, she was the Director of Digital and Growth at Focus Brands, where she led off-premise and delivery, customer loyalty, and digital growth for Schlotzsky's. Alison also held roles of increasing responsibility in strategy, operations, partner management, and marketing at Uber and American Express. She was drawn to the Atlanta Community Food Bank for the opportunity to apply these skills to serve the community. Alison earned a Bachelor's of Business Administration with a Spanish double major from Emory University. She resides in Virginia Highlands with her husband, David, and dog, Ralph, and loves exploring Atlanta's public golf courses.
Rodney Benn
Director of Logistics
Rodney Benn
Director of Logistics
As Director of Logistics, Rodney Benn focuses on the development, continuous improvement and delivery of our customer response, while improving the accessibility of Food Bank resources through Transportation and Warehouse Operations. Rodney has worked at the Food Bank for the past 25+ years in a variety of roles including Atlanta's Table Driver, Atlanta's Table Operations Manager and Senior Transportation Manager. For 13 years he served as the Hunger Action Center Manager (f.k.a. the Product Rescue Center), overseeing the Food Bank's largest volunteer activity space. Prior to the Food Bank, Rodney served in the United States Navy after finishing high school. Rodney was born and raised in Atlanta.
Ron Burns Jr.
Director, Network Growth
Ron Burns Jr.
Director, Network Growth
In his role as Director of Partner Relations, Ron Burns Jr. works on servicing, growing, and expanding our relationships with our partner agencies and other community partners. Prior to this role, Ron started his career at Frito-Lay, where he became an Operations Manager. He also had operations lead roles at General Mills, Nabisco and Pepsi. He received his degree in business administration from Winston-Salem State University after leaving the frozen tundra of his hometown, Buffalo, New York.
Elizabeth Cavallaro
Director, Operations
Elizabeth Cavallaro
Director, Operations
Elizabeth Cavallaro has spent her career leading people towards one goal. Excel. Excel at the immediate task, excel in your role, excel for your teammate, excel for those you serve. Her background in retail management for over a decade, and most recently in health care operations brings an inherent quality to help fulfill the needs of others and provide the right product/service at the right time. Elizabeth is now blessed to help those in need in the greater Atlanta community. Prior to moving to Georgia, Elizabeth spent most of her life in the northeast in Walmart's senior leadership, where her last facility grew to over $170M in annual sales. The thought that weighed most on her mind over the last decade was how she could use her skill set to serve the greater good. Her passion for community involvement within her church and those around her at work couldn't quench that desire. Helping feed her community by cooking meals at the local shelter couldn't either. Working at the Food Bank to make a difference in so many people's lives is truly a dream come to life for this mother of three. Elizabeth and her team's focus is to allocate the food supply at the Food Bank to seamlessly distribute to those experiencing food insecurities throughout the network of Community Food Centers and the involvement of volunteers and the Hunger Action Center. Elizabeth lives in Buford with her husband and three kids. She holds two degrees from Towson State University, Bachelor of Science and Mass Communications.
Michele Chivore
Director, Network Growth
Michele Chivore
Director, Network Growth
Michele Chivore serves as the Atlanta Community Food Bank's Director of Child Nutrition Programs where her role is to develop the strategy around and implementation of the Atlanta Community Food Bank's programs aimed at reducing child hunger. This includes outreach programs to increase capacity and participation in federally funded child nutrition programs while strategically exploring new opportunities to reduce the prevalence of childhood hunger across the Food Bank's service area. Prior to joining the Atlanta Community Food Bank, she served as Campaign Director for Childhood Hunger Programs at the Georgia Food Bank Association (GFBA) where she worked in conjunction with GFBA member food banks, local nonprofit and national partners to implement a state childhood hunger advocacy, communications, and marketing plan aimed at increasing participation in federal nutrition programs among eligible families with children. She has also worked as the Atlanta Program Manager for Seedco where she was responsible for program management services and technical assistance for initiatives that provided facilitated access to public benefit programs. She has also worked for CIBA Vision Corporation as a Logistics Planner and Communities In Schools of Georgia, Inc. to manage and implement several federal programs. Michele has a Bachelor of Arts Degree in Political Science from the University of Cape Town in South Africa and a Masters in Business Administration from Keller Graduate School of Management.
Michele Grear
Supply Director
Michele Grear
Supply Director
Michele leads the Supply and Inventory Management teams. Her team is responsible for sourcing the food through donations, government allocations and purchases as well as managing the accuracy and integrity of the warehouse inventory.

Michele is originally from the Windy City, Chicago and is a graduate of Loyola University of Chicago with a BA in Political Science and Sociology. She loves people, different cultures and travel. She built a successful 30 year career in fashion holding many positions from Store Manager to Merchandiser to Head of Production and Sourcing for such brands as The Gap, Anthropologie, Eddie Bauer, Tommy Hilfiger and Edun.

Michele has had the privilege to visit many countries and factories and was always drawn to the factory workers and surrounding communities. Her passion was for the human condition which pushed her to improve the conditions of the workers in the factories she encountered. Thus her life transition to the Atlanta Community Food Bank is very natural.
Megan Middleton
Director of Government Affairs
Megan Middleton
Director of Government Affairs
Megan is the Director of Government Affairs, leading the Atlanta Community Food Bank's legislative strategy to advance state and federal policies that reduce food insecurity. She is responsible for activating our grassroots volunteers, partner agencies, and board members on various policy activities. Megan previously served as the Intergovernmental Affairs Manager for the City of Atlanta, answering to three mayors during her 13-year tenure. There she focused on state and federal policies that affected the City and learned about many issues from local infrastructure, taxes, public safety, community services, and aviation to name a few. Her involvement with issues impacting the City developed her interest in working to make her community better. Megan also worked at a law firm representing corporate clients at the Gold Dome while attending law school in the evenings. She received her B.A. in Political Science from the University of Central Florida and her J.D. from Georgia State University College of Law.
Damian Narinesingh
Director of I.T.
Damian Narinesingh
Director of I.T.
Damian Narinesingh is an experienced leader in Information Technology, Logistics, Operations, Facilities Management and Finance. His experience covers a wide body of industries such as e-business, call centers, building products, distribution, manufacturing, consumer products, and telecommunications industries. In these industries, his role has been developing and aligning ICT strategies and services and the associated financial strategies to anticipate and satisfy the needs of the organization. Damian's former roles were the Executive Director of Operations, Logistics and Information Technology at Massy Technologies Trinidad and Tobago Limited. He is also the former President of the Information and Communication Technology Society and a former Director on the board of the Trinidad and Tobago Civil Aviation Authority where he was the Chairman of the Finance and Audit Committee and the Deputy Chairman of the Tenders committee. Besides his professional accomplishments Damian has achieved the following academic qualifications; BSc in Electronic Engineering Technology, Masters in Information Systems Management, Masters in Finance and Accounting and Graduate Certification in Project Management.
Greg Sims
Director of Individual Giving
Greg Sims
Director of Individual Giving
Greg Sims is the Director of Individual Giving at the Atlanta Community Food Bank, where he creates meaningful opportunities for 30,000 individual supporters to fight hunger across greater Atlanta and north Georgia. His expertise and leadership extends from direct response and digital marketing to principal and planned gifts. Prior to joining the Food Bank in 2012, Greg's diverse nonprofit experience included roles in refugee resettlement, volunteer management, faith-based grassroots advocacy, and community development in Guatemala. Greg currently serves on the board of the Greater Atlanta Chapter of the Association of Fundraising Professionals and is a member of the Georgia Planned Giving Council. Greg received his Masters of Divinity from Columbia Theological Seminary and his B.A. in Religious Studies from Rhodes College. In his spare time, you can find him avidly consuming podcasts and enthusiastically - if not skillfully - playing acoustic guitar. He currently resides in Decatur with his wife, Gina, their two children, and one rambunctious cat.
Cameron Turner
Director, Institutional Giving
Cameron Turner
Director, Institutional Giving
Cameron Turner applies her diverse leadership and fundraising experience as the Director of Institutional Giving for the Atlanta Community Food Bank. Driven by her passion to serve the impoverished in Atlanta, Ms. Turner oversees corporate and foundation relations along with special events and, with her team, is responsible for raising over $8.4 million in funding each year to address the needs of the hungry and homeless across North Georgia. Before joining the Food Bank, she served as the Director of Foundation and Corporate Relations for the Atlanta Mission and as a Development Officer for the Devereux Georgia Treatment Network. Over the last 15 years, Ms. Turner has dedicated her life and career to those in need throughout Atlanta and North Georgia. Her vast experience in the nonprofit sector has made her an expert in donor relations. This includes corporate partnerships, foundation relations, major donor solicitation, volunteer management, and special event execution.
Glenda Ware
Director of Finance/Controller
Glenda Ware
Director of Finance/Controller
Glenda is responsible for the day-to-day operations of the Finance Department for the Food Bank. Prior to joining the Food Bank, she has accumulated over 20 years of nonprofit experience as Accounting Manager at Arthritis Foundation in Atlanta, Director of Accounting at Greater Metropolitan Housing Corporation, and a Controller at an Elementary School in Minneapolis, Minnesota. In addition to her nonprofit experience, she also has over six years of for-profit experience as an Auditor. She graduated from Southern University with a Bachelor's in Accounting.
Edward Westreicher
Director, Communications
Edward Westreicher
Director, Communications
Ed leads our communications and public relations team. In this role, Ed is responsible for internal and external communications, including developing strategies for effective communications with our extensive network of over 600 partner agencies and engaging media in telling our story of fighting food insecurity in our service area. Prior to joining the Food Bank, Ed had a long career with The Coca-Cola Company where he had various leadership roles in finance, general management & communications, and sales & marketing training. He began his professional career at Deloitte (f.k.a. Touche Ross & Co.). Ed received his Master in International Business Studies degree from the University of South Carolina and his Bachelor of Science degree in Business Administration from the American University in Washington, DC. A cancer survivor, Ed was a 2016 candidate for the Leukemia & Lymphoma Society's annual Man/Woman of the Year fundraising campaign. He previously served on the Board of Governors and the Business Advisory Council for the Human Rights Campaign. Ed lives in Atlanta's Virginia-Highland neighborhood with his partner and two English Springer Spaniels.
Board of Directors
Mitch Harrison, Chair
First Communities
Derin Dickerson, Vice Chair
Alston & Bird
Althea Broughton, Treasurer
Arnall Golden Gregory
Kim Adams
Papa John's International
Janine Anthony Bowen
Baker & Hostetler
Gary L. Brantley
National Football League
Shawn Cole
Delta Air Lines
Jacqueline Flake
Community Volunteer & Philanthropist
Andrew Goldberg
Cox Communications
Tricia Kinney
ServiceMaster
Camye Mackey
Atlanta Hawks and State Farm Arena
Jennifer McKeehan
Peloton Interactive
Todd McMullen
Moore Colson
Adam Noyes
Proof of the Pudding
Keith Parker
Goodwill of North Georgia
Stephanie Smith
Home Depot
Claire E. Sterk
Emory University
Mike Stogner
US Trust, Bank of America
Advisory Board
Tim Swoger, Chair
HCC Insurance
Adam Emrich
Georgia Power
Arvind Krishnaswami
MedLytix, LLC
Ashley Purcell
Huff Powell Bailey
Bart Edwards
Community Volunteer
Bradley Koeneman
Hilton Atlanta
Chip Colson
Ste. Michelle Wine Estates
David Abes
Dash Hospitality Group
Doug Foley
Center Cut Restaurant Group
Esther Lee
Emory University Rollins School of Public Health
Guy Thomson
Pittypat's Porch
Harrison Miller
Fidelity Charitable
James Stevens
Troutman Pepper
Jason Wegmet
Cox Communications
Jennifer Dunaway
J. Dunaway Public Relations
Jennifer Lamourt
The Ritz-Carlton, Atlanta
Jim Cullinan
Kaiser Permanente
Joanne Bryant
Charles Schwab
Joanne Hayes
ValueStream Media Group, Simply Buckhead
Karen Brodie
Community Volunteer
Katherine Williams
Diaz Foods
Katie Jones
Georgia Restaurant Association
Kevin Rathbun
Kevin Rathbun Steak
Lauren Fernandez
CEO, Founder at Full Course
Liana Moran
The Wilbert Group
Lisa Boren Sivy
Cox Automotive
Marina Alden Bryant
Special Projects by Marina
Mark Lerner
LernerRouille Financial Strategies
Mark Griffin
Fifth Third Bank
Matthew Rao
RAO Design Studio, Inc.
Melanie Bollinger
The Coca-Cola Company
Nicole Kessell
Voya Financial
Pat Ferrer
Orion Portfolio Solutions
Paul Mooring
Buckhead Meat
Ricky Steele
Steele Technology Partners
Sheryl Myers
Comotion Films
Shireen Herrington
Ford Fry Restaurants
Todd Rushing
Concentrics Restaurants
Tracy Plott
Rogers & Hardin LLP
Virginia Willis
Virginia Willis Culinary Productions, LLC
Wayne Bradly
Squire Patton Boggs