Hunger Education
Educating Minds. Inspiring Change.
Get the facts about hunger and poverty. Our education and outreach team has a menu of tools for groups of all ages and sizes—everything from online resources, interactive workshops, tours and youth programs.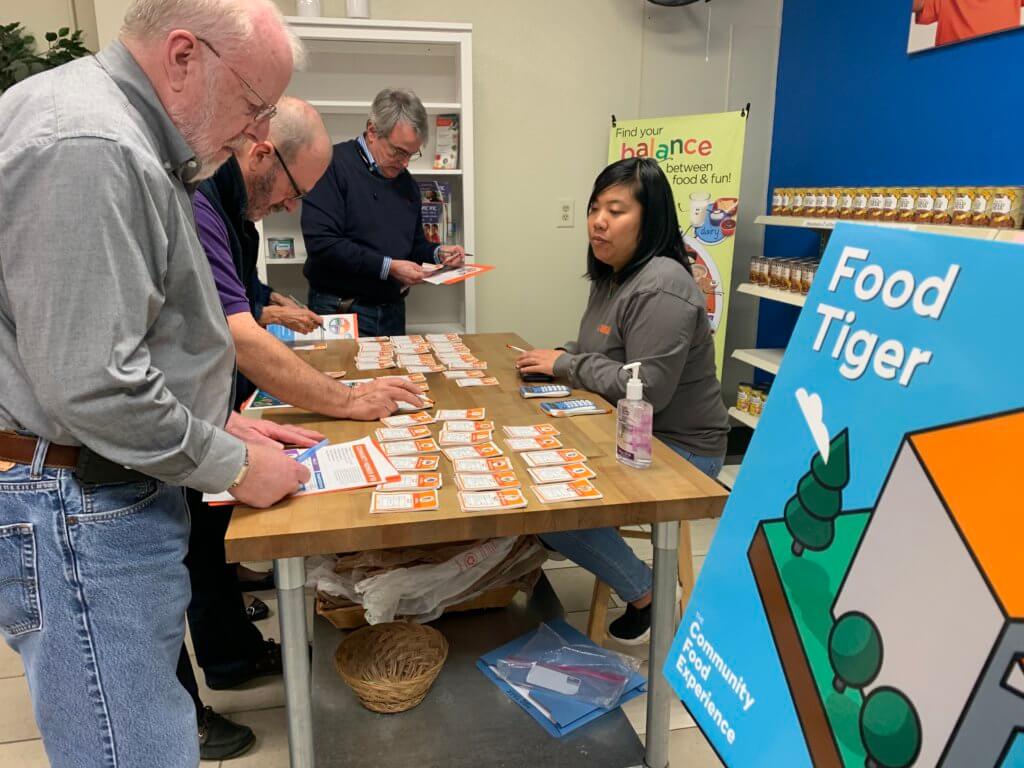 Hunger Education Workshops
If you are a College/University Student working on a project and would like to speak to a Food Bank representative, please email education@acfb.org. Requests must be made a minimum of 2 weeks before project deadline.
Workshops
Our team offers free interactive group workshops for 3rd grade through adult audiences. Workshops educate the community about the Food Bank and the issues that surround hunger and food insecurity. These experiences can be tailored to the age, knowledge level and number of participants, and can be held at the Food Bank, on an online platform, or offsite within the metro-area. A workshop can be facilitated with groups of 15-50 people and will both educate and help participants identify ways to take action. Past participants include corporate teams, teachers, college students, health professionals, public and private school students, volunteers and more. Schedule a workshop or get more info by contacting us.
Community Food Experience
This powerful interactive simulation allows participants to gain a deeper understanding of the complexity of hunger and explores the impact food insecurity has on individuals and communities. The simulation can be facilitated with groups of 25-50 people ranging in age from middle school to adult. Contact us to learn more and to schedule or download a PDF version of the simulation to facilitate on your own.
Hunger 101 Girl Scout
Patch Program
Over twenty years ago, Girl Scouts of Greater Atlanta, Inc. and the Atlanta Community Food Bank partnered to develop the Hunger 101 Patch Project for Girl Scout Daisies through Girl Scout Ambassadors. Through the Hunger 101 Patch Project, Girl Scouts are encouraged to learn and take actions that engage, educate and empower them to fight hunger in their community. They will also be encouraged to volunteer and experience volunteering as an activity that they can make throughout their lives. Scouts will complete a Hunger 101 workshop and have the opportunity to choose activities in three focus areas: Hunger, Nutrition and Gardening.
Hunger 101 Patch Program COMING SOON!
Youth Programs
We offer multiple opportunities for students to get involved during the summer. Rising 8th through 12th graders interested in learning more about the Food Bank and how to become a change agent in their community can apply to our youth programs. Students get to see firsthand how we support the community and have hands-on opportunities to serve.
If you have any questions, please email youth.programs@acfb.org or call 404-892-3333 x2009.
Youth Leadership Summit
Our Youth Leadership Summit's goal is to develop and nurture the next generation of leaders to engage in our mission and help build a more food secure future. Each summer, 25 selected participants take part in unique service and leadership opportunities, and use what they learn to become advocates and make a dynamic impact in their communities. If you will be a rising 10th through 12th grade student, have an interest in hunger and poverty issues and are interested in gaining leadership skills to take action within your community, then this is the program for you!
Youth Service Summit
The Youth Service Summit is an opportunity for students to gain an understanding of the Atlanta Community Food Bank's work and the challenges of food insecurity through hands-on service experiences. Each summer we select up to 25 rising 8th – 12th grade students who like to take action and are interested in learning through action by volunteering with the Food Bank and within our partner agency network. We ask students to use what they learn and in the course of the next school year complete a service project to tackle a real life problem in their community.
Youth Learn and Serve Day
Our Youth Learn and Serve Day is a 1-day introductory service learning opportunity where students receive an overview of the Food Bank and hunger issues and participate in a volunteer project. We are looking for rising 8th-12th graders who have either never or rarely volunteered with the Food Bank to offer a chance to see and learn what we do and how you can get involved.
The Hunger 101 Curriculum (K-12)
All of our educational materials, including the curriculum which can be downloaded here, Hunger 101 Curriculum, can be used by most audiences and age groups and navigate beautifully from boardroom to classroom.
Additional Resources
Activity Worksheets
Make 2x the Impact for Hungry Neighbors.
Your Gift by #GivingTuesday DOUBLES up to $50K to help provide 8 meals!